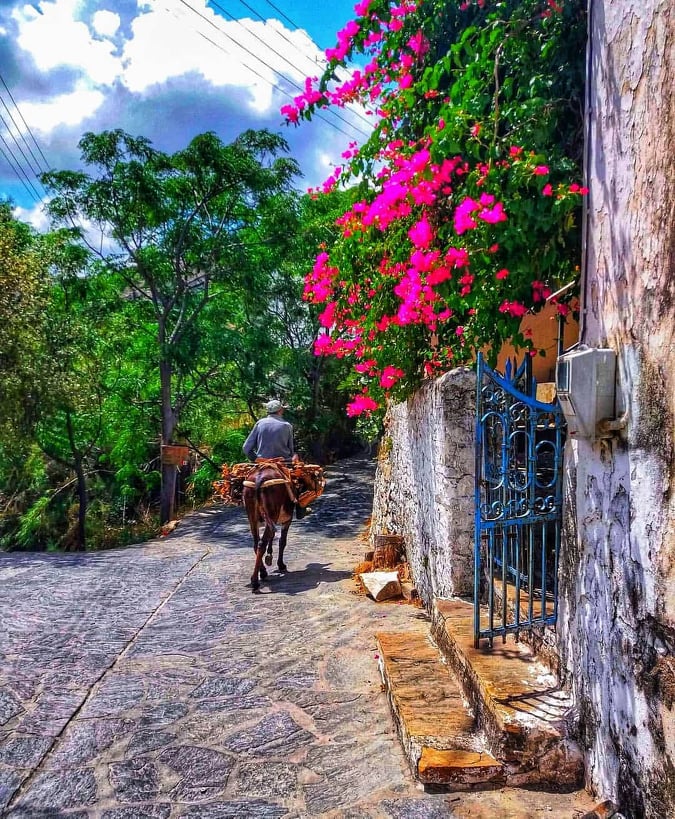 There are not many islands where their most famous archaeological site is the first thing you see when you arrive by ferry. This is the Portara, the doorway to the ancient Temple to Apollon which dates back to 522 BC. and many mythical figures in the mythology of Naxos Island – Dionysus, Zeus, Apollon, Ariadne, Demeter and many others – are woven with indelible colours in memory and time of life on Naxos, which is known to have been uninterruptedly inhabited since the 4th millennium BC.
Formerly known as Dionysia for its green orchards and vineyards, the island lies at the heart of the Aegean. Largely unexplored, its interior of green groves and glens is the island's real treasure.
Naxos is the largest island in the Cyclades, covering a total area of 429.785 km2 and its highest point is Mt. Zeus at 1,003 metres. The length of the island is around 40 km, and it measures around 30 km at its widest point. It takes about 90 minutes to drive the longest way (north to south) from one end of the island to the other. The high mountain dominating its centre and large plains surrounding it has created its own particular microclimate with a fertile terrain and a legacy of rich cuisine. Resident Naxiots have cultivated the island's 165 square miles of verdant, diverse terrain over millennia of habitation, and today hundreds of thousands of tourists a year flock there to feast on its gastronomic treasures.
The geography and nature of Naxos offers an authenticity, richness and simplicity that is an experience to discover and explore. On the slopes of Mount Zas (Zeus), the Naxiots have built many villages, taking advantage of this lush vegetation and fertile soil. These villages have supported the island's economy for thousands of years, allowing it to be independent (Naxos has been self-sufficient since antiquity) and to export its precious goods to its neighbours. They still do. Although the island's economy is now also oriented towards tourism, its deep agricultural and stockbreeding roots are here to stay. Naxos is happy with their reputation as a big beautiful island, rich in agriculture, tradition, some of the finest beaches in the Cyclades and an interior waiting to be discovered.
Naxos has a population of almost 21,000 scattered all around the island in its many villages and towns. The capital and main port is Chora or Naxos Town which has a year-round population of Greeks and foreigners of more than 6,000 inhabitants. Chora does not close down in the winter. It is the commercial centre of an island that does not depend only on tourism.
The island was at its economic and artistic peak in the 6th century BC, when some of its most important monuments were built. It experienced a period of great prosperity under Venetian rule, as the capital of the Duchy of the Aegean. Nowadays, Naxos is among the most popular Greek destinations – and for good reason – it has the best of everything the Cyclades have to offer.
It's large enough to provide plenty of activities and well-organised tourist infrastructure, but it's not hard to get off the beaten path here as it is marked by great variety: mountains with ravines, caves and gullies, valleys with olive, fig, orange, lemon trees and vineyards, and abundant waters.
Nikos Kazantzakis, Greece's foremost 20th century writer, once wrote about the time he spent as a teenager in Naxos' fertile valley of Eggares: "If paradise was on Earth, it would be here."
The valleys end at smooth, sandy beaches of astounding beauty adorned with juniper and tamarisk trees; villages are surrounded by orchards, fields and vegetable gardens; migratory birds find refuge on trees, while protected biotopes with rare fauna and flora complete the mosaic of an island that offers the visitor all the lavish gifts of nature.
Naxos may not have the fame of its neighbours Santorini or Mykonos, but it doesn't have the crowds, the cruise ships or the price tag either. Naxians tend to retain their authentic traditional way of life: they have their fields and their fruit and olive trees and their fishing and are content to be the kind of place that is attractive not only to those seeking sunlight and bars, but also to those looking for a little Greek culture and nature to go along with it.
Bear in mind that Naxos is a popular tourist destination especially during the summer months of July and August. In fact, August is the busiest time of year for tourists and accommodation, flights and ferry tickets can be hard to come by due to high demand, so plan ahead when making your trip to the island.
So that you don't miss out, you can book your flights, ferries, accommodation and even activities and excursions here, best prices guaranteed.