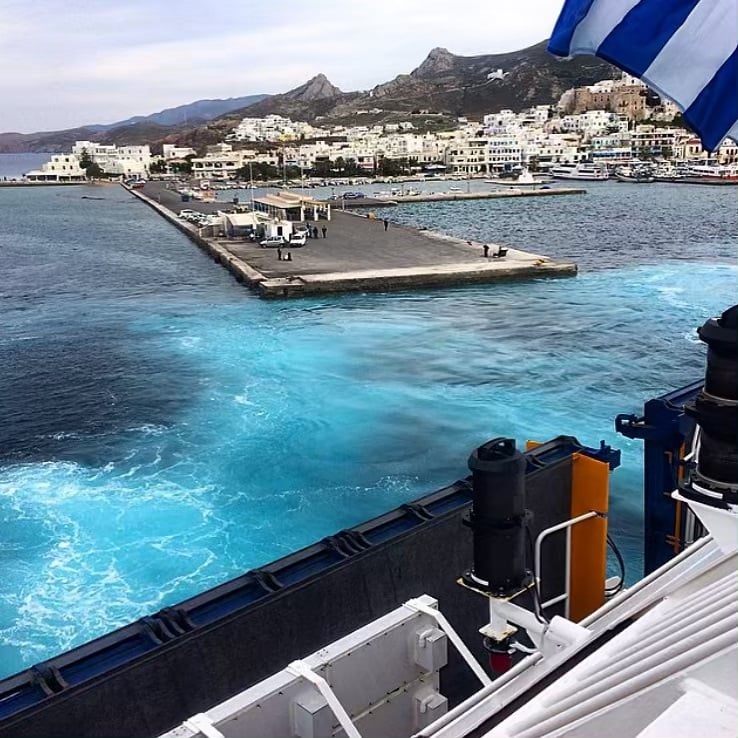 Located right in the centre of the Cyclades, there are multiple options to get to Naxos. You can travel by ferry or plane from Athens and from many different islands of the Aegean sea. So, pack your bag and get ready for your next Naxos adventure.
PLEASE NOTE: When travelling to Naxos either by ferry or air, you will need a completed pre-boarding form (provided with your booking) and either proof of vaccination (14 days must have passed from 2nd shot), a negative PCR test of less than 72 hours, a negative self-test of less than 24 hours (available at pharmacies) or proof of having recovered from Covid-19 (between 2-9 months ago). Learn more about the health protocols to enter Greece on https://travel.gov.gr/#/.
AIR
Naxos Island National Airport (JNX) is a regional airport located close to Agios Prokopios about 3 km away from Naxos Town. While international flights are not available, there are direct domestic flights from Athens International Airport (ATH) "Eleftherios Venizelos". The trip from Athens to Naxos by plane takes about 40 minutes.
Note that flights will sell out much earlier than ferries – if you find a flight that works for you, book it as soon as possible. There are no direct flights to Naxos from any other cities.
TIP: When travelling from Naxos airport, please keep in mind that you should get there at least 1 hour ahead. It is a small airport with only a few facilities and gets rather busy due to the fact that most travellers get there 30 minutes before their plane departs.
Should you wish to contact the airport authorities, please note the following phone numbers:
Support centre: + 30-22850-24816
Security office: + 30-22850-23969
Find out more about flight schedules and purchase tickets to Naxos here.
SEA
Naxos is well connected by ferries.
All 3 ports of Attica (Athens) are connected with Naxos throughout the year:
PIRAEUS – NAXOS: All through the year there are 2 daily ferry crossings from the port of Piraeus to the island of Naxos. The duration of the trip ranges from 5 to 6 hrs. From March additional high-speed ferries begin which reduces the duration of the trip to 3 hr 30 min. During July and August more ferry options become available to accommodate the seasonal visitors.
RAFINA -NAXOS: From February and until April you can travel by ferry to Naxos from the port of Rafina with stops in Tinos and Syros. The duration is 15 hr 45 min. A ferry connection between Rafina and Naxos, with a stop in Mykonos, starts in April and the ferry trip takes approximately 7 hrs. From May onwards, there are over 5 direct daily sailings from Rafina to Naxos. This duration ranges from 3 to 7 hrs.
LAVRION-NAXOS: From February onwards there is a direct ferry route from the port of Lavrion to Naxos every Friday. The duration is 8 hr 30 min and the ferry ticket.
Find out more about ferry schedules and purchase tickets to Naxos here.
ISLAND HOPPING
Naxos is connected with almost every island in the Aegean Sea, which makes it an ideal starting point for island hopping.
NAXOS-MYKONOS: From March onwards there is daily direct high-speed ferry route from Naxos to Mykonos and the journey lasts approximately 40 min. Keep in mind that this ferry doesn't carry vehicles. From around Easter (April) several ferries serve this route and there are over 10 daily crossings in total and the duration of the ferry journey ranges from 35 min to 1 hr 35 min. These ferries accommodate vehicles.
NAXOS-SANTORINI: If you want to travel from Naxos to Santorini, there are 1-2 daily ferry routes. During high season (May-September 2020) the number of daily sailings increases to at least 8 and the duration of the ferry trip ranges from 1 hr to 2 hr 30 min.
For more on Santorini, you can download SantoriniAPP HERE.
NAXOS-CRETE: The direct ferry connection between Naxos and Crete starts in mid-April 2020 with 2 daily crossings to the port of Heraklion and a weekly one to the port of Rethymno. The ferry trip to Heraklion lasts 3 hr 50 min and to Rethymno approximately 4 hr 20 min.
NAXOS-PAROS: These 2 neighbouring islands are connected with 1-2 daily crossings from February to mid-May and the journey lasts 45 min. From mid-May there are high-speed catamarans that reduce the traveling time to 30 min. From June additional ferries begin operating that can accommodate vehicles.
For more on the island of Paros, you can download ParosAPP HERE.
SMALL CYCLADES: Naxos is connected to all the islands of the Small Cyclades with several sailings during the week. Ferry routes include from Naxos to Amorgos, Donousa, Koufonisia, Schinoussa and Irakleia. In February, there are daily crossings and in April their number usually is increased. More specifically:
NAXOS-AMORGOS: Naxos is connected with both ports of Amorgos; Katapola and Aegiali. The duration of the high-speed ferry (only to Katapola) is 1 hr 30 min. The duration of other ferries ranges from 3 hr 50 min to 6 hr 20 min.
NAXOS-KOUFONISIA: There are daily crossings from Naxos to Koufonisia. The duration of the ferry trip to Koufonisia ranges from 30 min to 2 hr 30 min.
NAXOS-DONOUSA: From mid-April there are 3 weekly sailings to Donousa. The ferry duration is almost 4 hrs.
NAXOS-SCHINOUSSA & IRAKLEIA: During high season there is usually one 1 daily crossing to Schinoussa that lasts 1 hr 15 min. From there, you can reach the island of Irakleia in only 10 min.
Naxos is also connected with other Cycladic islands such as Syros, Andros, Tinos, Milos and Folegandros, as well as with islands of the Dodecanese (Astypalea, Patmos, Leros…).