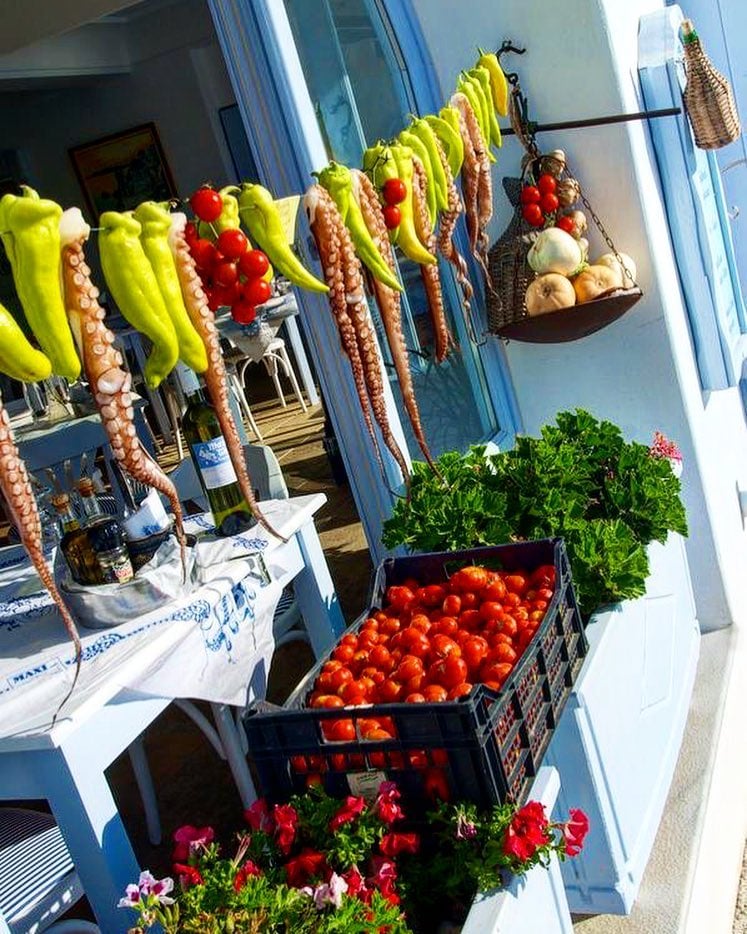 According to Greek mythology, Dionysus, the god of wine, blessed the island with fertility and today Naxos cuisine packs thousands of years of history into its farm-to-table fare. If there is something that you will always remember about your trip to Naxos, it's the delicious food, always made with home-grown fresh local ingredients and an amazing combination of flavours and scents that only local herbs and spices can create.
Naxos has been self-sufficient since antiquity and evidence of its agricultural roots – past and present – is everywhere, from the now derelict windmills perched on hilltops and the flocks of sheep and goats that graze freely on open plateaus, to the agricultural terraces, carved deep into cliff faces along the coast. Citrus groves, vegetable farms, pasturelands, the olive groves of Tragea and vineyards at the northern part of the island abound. The goods provided by the fertile nature of Naxos on the one hand and the produce of the farmers inhabiting the mountain villages of Filoti and Apeiranthos (calf, goats and sheep, dairy products, oil, olives, grapes, honey, citrus fruits, potatoes and other vegetables) on the other hand have formed – through their longstanding presence – the traditional cuisine of Naxos.
Naxos is particularly known for its potatoes, sweet tomatoes, a great variety of cheeses, fresh seafood, delicious meats and farmed vegetables, wild aromatic herbs, honey and of course the kitron liqueur. This particular liqueur is made of the citron fruit, which is similar to the taste of grapefruit, and travelers can taste it in almost every place in Naxos. There are a couple of great little shops in the Chora for buying cheese and other specialities, herbs, spices, teas, and local honey.
What is interesting about the cuisine of Naxos is that well before there was a road network to link together the villages, Naxian cuisine was divided into three categories, and still today this influence remains somewhat:
1. Coastal regions where fish and seafood is especially fresh.
2. In the plains, vegetables, meat (beef) and dairy (butter has been used in cooking here for centuries).
3. Mountainous regions showcase goat and sheep dishes highlighted by the use of delightful olive oil.
CHEESES
Naxos loves its cheese!
An island this may be but the variety of cheese to be tasted is pretty big if you consider that most places in the world specialise in only one variety.
Only a few characteristic Naxian cheeses are presented here but it is worth seeking out more:
Naxos Gruyere: The most widely-recognised Naxos cheese is the Naxian Gruyere, the production of which has been protected since 1988 and carries a Protected Designation of Origin (PDO) since 1996. It is made with a minimum 80% cows milk, 20% goat's or sheep's milk at most, and traditional rennet. It is a hard, table cheese, with a pleasant flavour and fragrance.
Kopanisti: Another PDO cheese is kopanisti. Depending on the time of year it is made with pasteurised goat or cow milk. It is a soft cheese that ripens with flavour to strong and quite spicy.
Xinomyzithra: Another well-known Naxian cheese is xinomyzithra, a cream cheese with a slightly sour taste, mainly made with goats milk. It is ready in 24 hours after the milk has been drawn, and must be consumed within a few days because it is fresh and contains no preservatives.
Xinotyri: Xinotyri is the same cheese as xinomyzithra, only it is left to dry for several weeks until it becomes hard.
Arseniko: Another traditional cheese variety is kefalotyri, locally known as arseniko ("masculine"), which is produced with 100% sheeps milk. It is a hard cheese cylindrical in shape, with a relatively thin outer layer and a colour between off-white to off-yellow. It has a pleasant salty and piquant taste and rich aroma.
Thylikotyri: Besides "masculine," Naxos also produces thylikotyri ("feminine cheese"). This is produced right after arseniko, it is white in colour with a velvety texture, a light buttery flavour and a balanced salty taste. Despite being low-fat (19%-21%), it has a pleasant taste and best accompanies wine.
Komos: Another cheese worth tasting is komos prepared as a sequel to thylikotyri. The cheesemakers gather what is left of thylikotyri and let it ferment with aromatic mountain herbs. The result is komos, a very low-fat cheese that best accompanies spirits, ouzo and tsipouro.
There are several more types of cheese to sample since Naxos has quite large numbers of animals, but these tastes are best explored by visiting the areas they are specific to.
POTATOES
If there is one food you must eat in Naxos, it's the potatoes! Naxos is a proud producer of potatoes, a cultivation that expanded at the beginning of the nineteenth century in the lowlands of the island, especially in the valley of Livadi. Popular throughout Greece for its taste and cooking properties, the production of Naxian potatoes reaches an impressive 8.000 tonnes of potatoes per year, a quantity that allows to export the product to the rest of the country, bringing a regular income to the local population.
Fun fact: the island is in the Guinness Book of Records for the largest serving of fries at one time by frying 625 kilos of potatoes.
LOCAL SPECIALITIES
STARTERS & MAINS:
As regards the local specialties, meat & seafood lovers, vegetarians and vegans have some must-try options:
Kokoras me Makaronia: Kokoras me Makaronia is rooster braised in red sauce. Hours of simmering the chicken in red wine and tomatoes creates a luxurious sauce that is spooned over fresh spaghetti.
Patouda: Patouda is lamb stuffed with fennel, chard, a blend of herbs and garlic. According to the traditions and customs of the Island, Patouda is usually served on Easter Sunday, however travellers can find it in restaurants usually served with Naxian potatoes and red local wine.
Gardoumia: Gardoumia is a meze (appetizer) made from lamb intestines. It is a popular dish among mountain and pastoral farming/shepherd communities where meat eating prevails.
Note: Intestines and offal make delicious mezedes and have been prepared since ancient times.The most popular of these are – kokoretsi, a rotisserie offal and intestine sausage; frygadelia, liver wrapped in fat that is cooked over coals on a skewer; and gardoumbes, tiny little intestines.
Zamponi: Zamponi is cured pork leg and is offered sliced as an appetizer. It is similar to Italian prosciutto in appearance but has a spicier and saltier taste.
According to locals in the village of Apiranthos, for the zamponi to be a success the pig should be slaughtered when northerly winds blow because only then is the meat drained properly. Thereafter the entire leg is coated with a mixture of salt, pepper and cinnamon and is kept in a chest covered with coarse salt. It is left to ripen for about six months.
Pork Rosto: Pork Rosto is also made from the leg of the pig which is marinated in red wine. It is usually served with the infamous Naxian potatoes, and the tender meat along with the sweetness of the wine offers the ultimate mouth-watering experience.
Koukoulomaeria soup: Koukoulomaeria soup is made from white beans, wheat, corn, and olive oil. This is a great vegan option for those who wish to enjoy and taste the simplicity of the cuisine, as well as the fresh vegetables of the Island.
Sefoukloti: Another delightful vegan option is Sefoukloti, a sweet-savoury traditional pie made with white beet, fennel and aromatic greens, herbs, spinach, oregano, onions, raisins and olive oil. This particular pie is made in a frying pan with no milk or eggs.
Kolokithopastitsa: Kolokithopastitsa is an exceptional dish based on a traditional recipe from the village of Apeiranthos. It is an open face pie made in the frying pan with sweet pumpkin, flour, onions and peppers (also vegan).
Kalogiros: Kalogiros is an exceptional combination of veal and eggplants, served with a variety of delicious Naxian melted cheese on top.
Wild rabbit: Wild rabbit on Naxos is braised in lemon. It's incredibly delicious.
Salachtouri: Salachtouri is Rays fish salad with greens and a delightfully fresh lemon dressing.
Seafood: Seafood and fish based dishes abound and include the delicious sun-dried and marinated chub mackerel (gouna), salachtouri, marinated anchovies, char-grilled octopus and lobster pasta among many others. Enquire at your restaurant for their fresh speciality of the day.
DESSERTS:
Melachrino: Among the signature desserts of Naxos, Melachrino is renowned throughout Greece. It is a walnut cake drenched in syrup, made with a tiny dose of kitron liqueur. This is typically served with kaimaki ice cream (made from mastric-resin and sheep's milk).
Xerotigana: Xerotigana (or Diples) are fried dumplings with sesame seeds and honey.
Preserves (Spoon sweets): Endowed with a wide variety of fruit trees, Naxos also offers an array of spoon sweets and preserves, the most characteristic of them being the varieties of cherry, citron, quince, sour cherry and papilona (a cross fertilization between bergamot and bitter orange), which are sold at many outlets on the island.
HONEY:
Due to its rich flora and high fluctuations in altitude, Naxos is ideal for the production of honey. Bees mainly feed on thyme and heather, and in the summer, on sage, oregano and spring flowers. The largest part of the 35 to 40 tons produced annually is thyme honey – the rest being mainly heather and spring flower varieties.
Eat like a god on this sun-soaked Greek island. Kali Orexi! Bon Appetit!
WINE & KITRON
WINE:
Naxos has always been a wine producing island, having been blessed by the god of wine and revelry, Dionysus. It is not unusual to see grapevines in the garden, on a trellis on the patio, or behind rock walls outside of hillside villages, and cultivated vineyards are just about everywhere. You will find them in the island's lush valleys or on the steep slopes of the mountain ranges alongside the villages of Naxos.
Aegean wine is a synonym for natural wine – they believe in making wine with almost no intervention, leaving all the processes as natural as possible. As a result, the locals respect their wine and it is the most widely preferred drink among the islanders. The "best" grapes come from the area surrounding the hillside village of Koronida in the mountains of the north. A stop for a glass if passing through is highly recommended. You must taste Naxos wine!
The varieties of wine that exist on Naxos are mainly the Aidani, the Potamisi, the Fokiano and the Mantilaria. Table wine varieties that are usually found in the island are the Rozaki (common grape vine), the Soultanina (raisin) and the Fraoula (strawberry). In addition to wine, Naxos is also famous for a liquor called Kitro, that comes from distilling citrus leaves, which are cultivated only on the fertile lands of the island. In the village of Halki you can visit the traditional distillery and be informed about the secrets of the production.
Although wine flows freely on this island, finding a good bottle of local wine to purchase is another adventure. It is possible, but it is not as simple as you might think. But don't panic. There are a few local producers who bottle their wine and sell it in the local stores and restaurants. It's good. In the markets you can find recycled plastic containers with local wine made by the proprietor or his friend sold fairly cheaply. It's good too. There are some wine-focused shops in the Chora which can help you weave your way through the local wines.
Famous or not, the wine of Naxos will gain a place in your heart, so, give it a try, you won't be disappointed.
KITRON:
Naxos's renowned kitron liqueur is one of three Greek aperitifs marketed with a Protected Designation of Origin. Citron groves are cultivated in the plains of Eggares and Sagri, but also in the hinterland valleys, where winters are mild and summers cool.
The production of this citron-flavoured spirit, originally known as kitrorako, is a very old affair, but around 1870 a new distillate was developed from alcohol and citron leaves which became todays widely known Naxos citron liqueur.
The product was exported to many places abroad which had thriving Greek communities (Russia, USA, Egypt, Asia Minor), took part in many Greek and international fairs and won many awards and distinctions (including gold medals in Marseilles in 1904, Bordeaux in 1907, Athens in 1903 and 1914 and Thessaloniki in 1936).
The production process starts with the collection of citron leaves when they are fully fragrant – that is, from September and possibly throughout the winter. After careful selection to exclude dry and diseased leaves. They are then bathed in alcohol in a traditional pot still. The essential oils of the leaves are dissolved in the alcohol and the distillate gives three basic spirit types: green (at 30 degrees), clear (at 33 degrees), and yellow (at 36 degrees). The former is sweeter and less alcoholic; the latter the punchiest of the bunch; and the middle one aptly, is somewhere in the middle.
Kitro was first manufactured in 1896 and continues today. If you're passing by the village of Halki you can visit the Vallindras Kitron Distillery to see how its made.