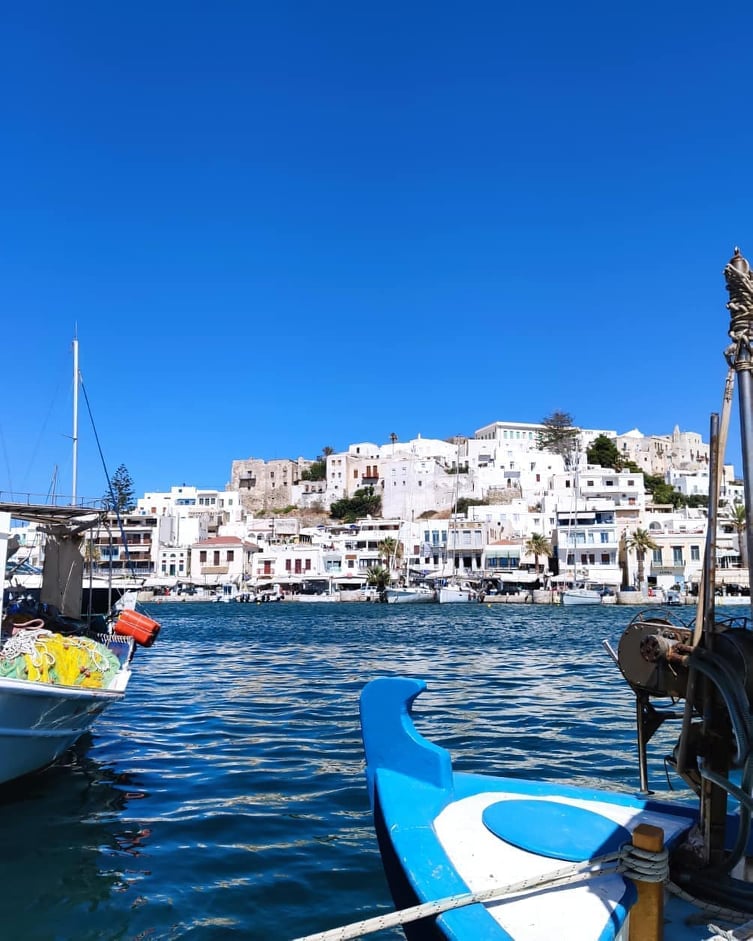 WΗΑΤ TO BRING
Remember to bring a camera, binoculars, a hat and sunscreen lotion. Also remember to bring along medicines such as anti-histamine and lotion for insect stings and bites.
WHAT TO WEAR
Cool clothing for summer, as well as your bathing suit and comfortable walking shoes. Warm clothing for winter as the temperature can drop considerably, with the wind chill factor especially in the mountanious areas. We recommend you also bring a warm jacket, gloves, beanie and scarf to ensure you keep warm.
HOW'S THE WEATHER?
On Naxos the climate is Mediterranean, with mild, rainy winters and warm, sunny summers. The island is fairly windy, and in summer is cooled by a frequent wind which blows from the north. The wind has been exploited by windmills for centuries.
The daily average temperature ranges from 12 °C (53.5 °F) in January and February to a maximum of 33°C (91.4 °F) in July and August.
SPRING (mid-March to May) is mild and sunny. By mid-May the Meltemi winds starts to blow. A persistent cool and dry wind which blows from the north for a few days in a row mainly during the day, but sometimes into the evening.
During May and early June, the countryside is very green and the flowers are in bloom. The late spring sun brings out the aromas of all the wild flowers, the herbs and the moist soil. As we enter the summer, the bright colours give way to a mixed palette of straw coloured grass offset by the dense green of the trees and shrubs.
SUMMER (June to mid-September) is warm and sunny, but can be windy. The Meltemi winds blow for long periods, especially in July and August, gaining strength in the afternoon. Because of these winds, the maximum temperature remains almost always below 30 °C (86 °F) even in the hottest periods. When in the rest of Greece temperatures can reach or exceed 40 °C (104 °F), on Naxos they rarely exceed 33/35 °C (91/95 °F).
On Naxos, there is very little rain (if any) during the summer months, so the islanders have built a big water reservoir to serve their cultivation needs.
AUTUMN (mid-September to November) is initially warm and sunny, but then gradually becoming cooler and rainier. Autumn too is windy: as long as the weather is warm, the Meltemi still blows.
WINTER (December to mid-March) brings lower temperatures but usually for a very short time At times cold air masses from the Balkan Peninsula can bring very cold days with highs below 10 °C (50 °F) and occasionally snow.
The sea remains warm for the better part of the year with mid-winter being the exception. Even then, between November and February, sun-drenched days are many.
INTERNET
Internet access is widely available throughout the island. Almost all hotels provide internet access, either free or paid. Local coffee shops usually offer free Wi-Fi access, as many other public places do. Feel free to ask for the password, if the network is locked.
ELECTRICITY
220 volts AC, 50Hz. Round two-pin plugs are used.
US visitors require a transformer and British visitors an adaptor. Most establishments provide these, alternatively they can be purchased at the airport or large electrical shops.
TIME
Like most countries in Europe, Greece observes Daylight-Saving.
In summer the time goes one hour forward to 3 hours ahead of Greenwich Mean Time (GMT+3).
In winter the time reverts back to Eastern European Time (EET) or (GMT+2)
LANGUAGE
Obviously Greek is the native language of the people of Naxos. However, due to the high level of tourism, English and to a lesser extent German, is likely to be spoken by most inhabitants.
Learn a few words from our Greek PHRASE GUIDE
STAY SAFE
Is it safe to travel to Naxos? Has the coronavirus outbreak spread on Naxos?
When travelling to Naxos either by ferry or air, you will need a completed pre-boarding form (provided with your booking) and either proof of vaccination (14 days must have passed from 2nd shot), a negative PCR test of less than 72 hours, a negative self-test of less than 24 hours (available at pharmacies) or proof of having recovered from Covid-19 (between 2-9 months ago). Learn more about the health protocols to enter Greece on https://travel.gov.gr/#/.
The situation is dynamically evolving, and you should also check the travel recommendations issued by your own ministry of health.
USEFUL PHONE NUMBERS:
Here are some useful contacts to keep handy during your vacation in Naxos:
Municipality of Naxos and Lesser Cyclades: (+30) 22853 60100
Naxos citizen service center (KEP): (+30)22850 24303, (+30)22853 60401
Naxos General Hospital – Health Center: (+30) 22853 60500
Naxos Port Authority: (+30)22850 22300
Polce Station: (+30) 22850 22100
Polce Station in Filoti: (+30) 22850 31224
Naxos Apollon Airport: (+30) 22850 23292
Naxos Buses: (KTEL): (+30) 22850 22291
Naxos Taxis: (+30) 22850 22444 or (+30) 22850 24331