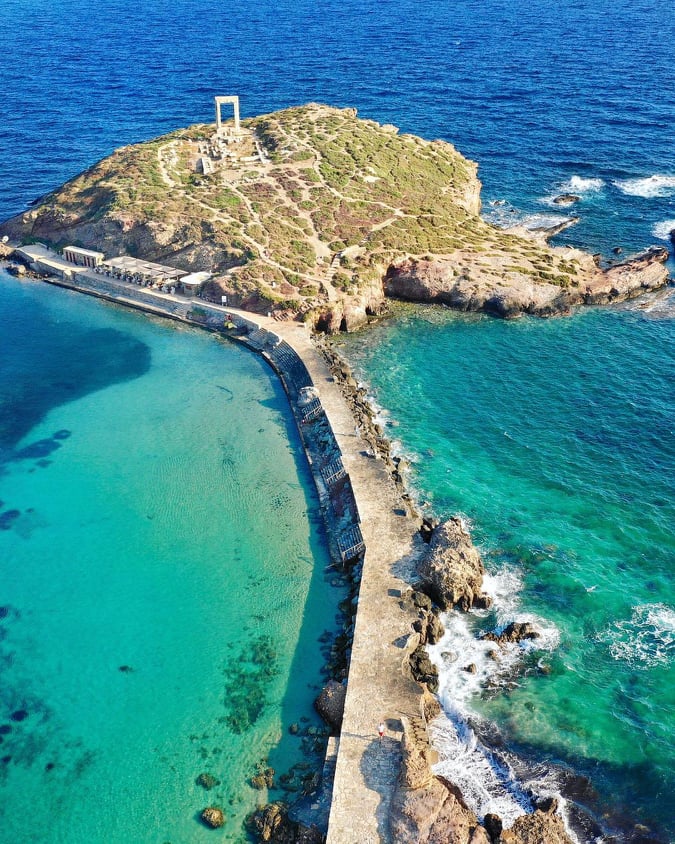 Naxos is situated in the heart of the Aegean Sea, right in the centre of the Cyclades archipelago, in between it's bustling neighbours Santorni and Mykonos, and directly opposite Paros. It is the largest and most fertile island of all the Cyclades with a stunning natural landscape. Other than a lengthy coastline of pristine sandy beaches and turquoise waters, Naxos is full of water springs, streams and small rivers in ravines. Its lush, fertile landscape is in refreshing contrast to the other much drier Cyclades islands and as such, this scenic Mediterranean haven is the only fully self-sufficient one. All food resources are available directly on the island without need for imports, and Naxiots pack thousands of years of history into their mouthwatering local dishes.
The island has plenty to see: the highest mountains in the Cyclades, intriguing central valleys, a spectacular north coast and long, marvellously sandy beaches in the southwest. It is also renowned for its wines, cheese and kítron, a sweet liqueur. Naxos is one of the leading destinations for wind surfing and kite surfing; its sandy beaches are great for the kids; and its historic and mythical legacy are a wonder for culture vultures. In Greek mythology in fact, Naxos is where the Nymphs decided to raise young Zeus, the king of men and gods.
Naxos is of the few islands that has managed to maintain its authentic charm making it an ideal Greek destination. There's no denying it – abundant sunshine, white-washed towns and cobblestone alleys, beautiful beaches, a rich history and culture, spectacular archeological sites, delicious local food, magical sunsets, serene mountain villages and the warmest, most genuine hospitality – all make for an idyllic Greek holiday.
Take your time exploring this underrated treasure and you will soon feel yourself falling in love with an island that has every shade of blue under the sun. This is an island you cannot afford to miss!